TOTEM

MONKEYS, APES, PRIMATES


SEEKING TO OBTAIN

WORTHY STUDENTS AND DISCIPLES TO TEACH

ACTIVITY

TECHNOLOGY, MAGIC, ALCHEMY, TEACHING


NEGATIVE QUALITY

DECEPTIVE
Baba Gua was a famed inventor, magician, and healer. The people of his country benefited greatly from BabaGua's ingenuity. His immense knowledge in the way of natural medicine and life force cultivation eradicated many of the diseases and plagues that had ravaged the land for many years. Because of this, he was appointed as the Chief Magistrate by the Warrior King Sosa and was second in power in the land. Gua was not so interested in power as he was in the accumulation of knowledge and practice. Any and all subjects interested him and he would not give rest until a worthy subject was mastered. He also invented a form of writing that enabled his country to grow rich due to accurate records in matters of commerce.
Much of Baba Gua's knowledge was owed to the ancestral history passed down to only a select initiated few. The ancestral protocol, known as the Ewe Code, was strict and forbidden to be disclosed to any uninitiated person. Steeped in tradition and ritual, the society of Magi frowned upon Gua's ambition and gregarious tendency towards public displays of knowledge. As a younger man Gua was very fond of beautiful women and would give magical gifts to impress the person of his desire. He was placed on restriction and probation by the order of Magi, but ultimately his genius and charisma was not to be denied expression.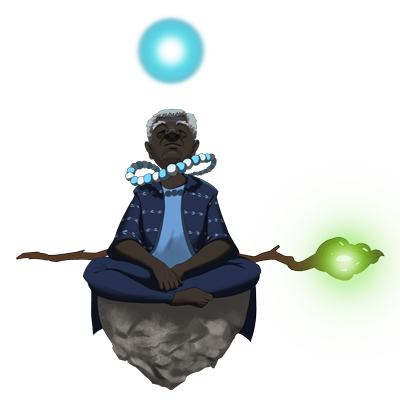 A terrible disease had broken out and none of the wise men and women were able to produce a cure for this new terrible scourge. Baba Gua had been secretly converting the old ancient knowledge of earth science and techniques into inventive technological devices. He invented a machine that converted the essence of herbs into crystalline resins that were powerfully potent in a small amount of time. The natural process of conversion that usually took months, even years, to complete was now ready in days. Baba Gua was able, with the help of a cadre of young disciples, to stem the tide of the plague and relief returned to the land.
One of Baba Gua's most incredible accomplishments was when he taught an island inhabited by monkeys how to organize itself and communicate through writing to humans. Unfortunately, neighboring humans fearful of the challenge of intelligent primates set fire to the island killing all but one highly intelligent baboon, whom Gua took in as his personal companion.
BabaGua had status, success, and the freedom to practice, teach, and entertain wherever he chose. He was known for his humor and many children's songs owed their origin to any one of his amazing deeds. Because of his knowledge, though, Gua was frequently courted and sought out by villainous characters of ill-repute who were hopeful to use Gua's knowledge in their nefarious pursuits.
Though he openly denied ever assisting the criminal minded, there were some who doubted Gua's integrity. Gua condemned such slander as jealous accusations and continued to accumulate knowledge and riches.
Because of his knowledge and skill in life force cultivation, he was chosen by the Immortals to assist them in their mission. In return, Baba Gua was taught the Everlasting Breath technique.